He's "keeping him in the dark and feeding him s**t"…
From Breitbart:
President Trump is chafing under Chief of Staff John Kelly's control and is finding ways around it, according to a report.

Kelly has tried to control who the president talks to, but Trump is continuing to call business friends and outside advisers, including former chief strategist Steve Bannon, the report by the Washington Post said.

Trump calls Bannon and others from his personal phone when Kelly is not around, the report said.

"Donald Trump resists being handled," Roger Stone, former Trump adviser and longtime confidant, told the Post.

"Nobody tells him who to see, who to listen to, what to read, what he can say," he said. "General Kelly is trying to treat the president like a mushroom. Keeping him in the dark and feeding him s— is not going to work. Donald Trump is a free spirit."

Whereas before friends could call the White House and be patched through to the president, now his calls are routed through Kelly and do not always make it to the president, the report said. Friends used to be able to drop by the West Wing, but now they must have an official appointment and a clear reason to visit.

Some Trump loyalists derisively dub Kelly "the church lady," the report said.

Kelly is reportedly reviewing White House staff and is "said to be targeting aides without clear portfolios or responsibility."

So far, most if not all of the White House staffers who have been removed, pushed out, or resigned have been Trump loyalists who were with him during the campaign.

Trump "doesn't like" how Kelly is handling him, the report said.

At the same time, he is "quietly fuming" over National Economic Council Director Gary Cohn's public criticism of his response to the events in Charlottesville, even after they spoke privately.

He has "grown increasingly frustrated" with Secretary of State Rex Tillerson, whose approach the president says is "totally establishment."
The New York Times reported Kelly is also no longer giving Trump stories from Breitbart and The Daily Caller.

"Mr. Kelly cannot stop Mr. Trump from binge-watching Fox News, which aides describe as the president's primary source of information gathering," the Times report said. "But Mr. Trump does not have a web browser on his phone, and does not use a laptop, so he was dependent on aides like Stephen K. Bannon, his former chief strategist, to hand-deliver printouts of articles from conservative media outlets."

"Now Mr. Kelly has thinned out his package of printouts so much that Mr. Trump plaintively asked a friend recently where The Daily Caller and Breitbart were."
It's hard to say what's going on behind the scenes lately. The only good news I've seen come out of Kelly was Steve Bannon's comments that the "days are over when Ivanka can run in and lay her head on the [president's] desk and cry."
While Trump loves Generals like the great George Patton, he doesn't seem to recognize today's Generals are not cut from the same cloth.
James Mattis surrounds himself with women from Obama's regime and wants transgenders in the military.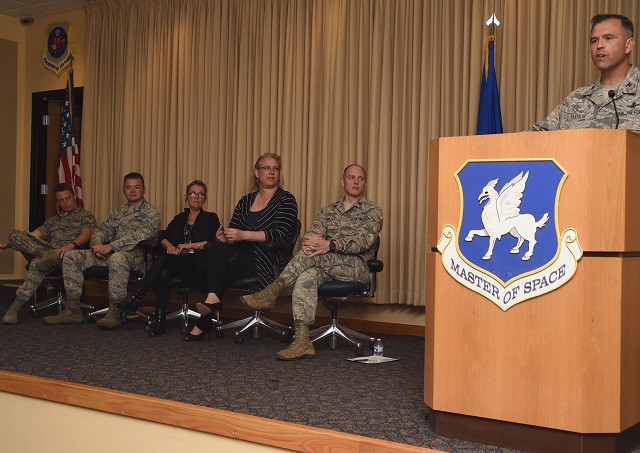 Pictured: Col. Anthony Mastalir, 50th Space Wing vice wing commander, speaks to Airmen attending the Company Grade Officers' Council transgender panel at Schriever Air Force Base, Colorado, Wednesday, May 17, 2017. The discussion highlighted obstacles transgender service members face. (U.S. Air Force photo/Senior Airman Arielle Vasquez)

Of course, Mattis also supports a neocon foreign policy and got Trump to send more troops to Afghanistan, most of whom are Trump voters.