By Susan Duclos – All News PipeLine
When President-Elect Donald Trump won enough electoral votes to beat Hillary Clinton, it came as a surprise to those that had been listening or reading the mainstream media, who consistently told them it wasn't possible or the odds were astronomical, so the upset was and is completely understandable, even though the rage was being directed not at the outlets that lied to them, but towards Trump supporters and Trump himself.
In the aftermath we saw article after article about how Trump supporters were committing hate crimes against a variety of different people from Muslims to immigrants, but many of the MSM outlets never followed up to inform their readers that the majority of these so-called hate crimes were outright fabrications or total hoaxes.
MANUFACTURED HATE
For example, a Muslim teen, Yasmin Seweid, 18, claimed she was harassed in the New York subway by Trump supporters, claiming three white men surrounded her, taunted her and tried to pull off her hijab.
Her original account:
"They were surrounding me from behind and they were like, 'Oh look, it's an f***ing terrorist,'" she said. "I didn't answer. They pulled my strap of the bag and it ripped, and that's when I turned around and I was really polite and I was like, 'Can you please leave me alone?' and everyone was looking, no one said a thing, everyone just looked away."
She even went as far as to blame Trump for her ordeal, stating "The president-elect just promotes this stuff and is very anti-Muslim, very Islamophobic, and he's just condoning it."
It was a hoax, a totally fake story and Seweid was arrested for filing a false police report on December 14th, after confessing to making the whole thing up. The more conservative news outlets reported the arrest and the complete fabrication of the story, while the mainstream media played it down or attempted to justify her actions.
Another example of these types of reports being investigated just to find out they were hoaxes includes a University of Michigan student, who claimed she was targeted for wearing a hijab and that a stranger walked up to her and threatened to light her on fire if she did not remove her jihab. Over a month later, as her story along with multiple others had been used by the MSM as "proof" that Muslims and minorities were being targeted, police determined that the incident did not occur at all.
Investigators conducted witness interviews and reviewed multiple surveillance videos of the area in question," the department said. "During the course of the investigation, numerous inconsistencies in the statements provided by the alleged victim were identified. Following a thorough investigation, detectives have determined the incident in question did not occur."
Also we note that the original Fox 2 story about the so-called hate crime, was never updated with a link, or an editor's note showing the outcome, so anyone searching for "hate-crime" stories pull that up and have no idea it was determined to be a fake report.
Other examples have been detailed at Reason.com – Key quotes below:
The first one to really go viral involved a Muslim female student at the University of Louisiana who claimed to have had her hijab ripped off and her wallet stolen the day after Trump's election by two white men wearing Trump hats. But on Thursday, local police announced that the young woman had admitted she fabricated the story. "This incident is no longer under investigation," the Lafayette Police Department said in a press release.
[…]
And an alleged incident of a gay man named Chris Ball getting beaten up by Trump supporters in Santa Monica on election night seems to have not happened the way it was initially recounted, if the incident even happened at all. The Santa Monica Police Department posted a message to Facebook Thursday saying that neither the department nor city officials had "received any information indicating this crime occurred in the City of Santa Monica" and "a check of local hospitals revealed there was no victim of any such incident admitted or treated."

Other instances of "Trump inspired" violence and vandalism have also turned out to be hoaxes or misinterpretations. An alleged Ku Klux Klan rally in honor of Trump's victory turned out to be an old photo of conservatives carrying U.S., Gadsden, and Christian flags that were billowing out in a manner mistaken in a grainy photo for Klan robes. There were no Southern Illinois University students posting blackface selfies to social media after Trump's win.

A Nazi flag that went up over a home in San Francisco Wednesday wasn't a show of support for anti-Jewish sentiment but "a comment on our new president-elect," according to the anti-Trump resident who put it up. "I am hoping people get that this is a political statement, and that I'm not a Nazi supporter."
In mid-November,  a 20-year-old man told police  he was followed by at least two white males, claiming  the men used a racist slur, made a reference to lynching and mentioned that he was now in "Trump country," but according to the Malden police, the story was fabricated.
REAL HATE COMING FROM CLINTON/SANDERS SUPPORTERS
The examples of these fairy tales shared widely on social media, some of which going viral, yet authorities saying they have no record, or having proven they were outright hoaxes, go on and on and on….. but what the mainstream media is not highlighting, and is instead downplaying, is the outright hatred and harassment against Trump supporters.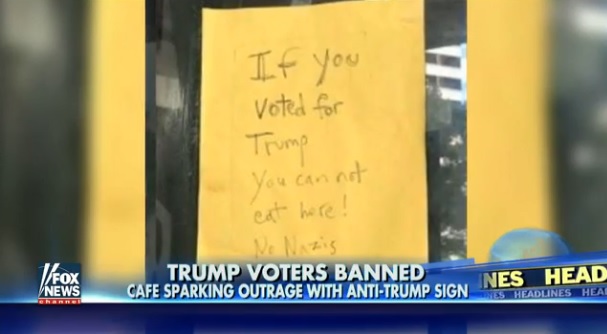 Today we see reports that a cafe in Hawaii has refused service to Trump supporters, with a handmade, bright yellow sign, which states "If you voted for Trump you cannot eat here! No Nazis."
While that is not a life threatening incident, but more a butthurt business owner that can't handle the fact that the candidate of their choice didn't win, other anti-Trump incidents could have life and death ramifications, such as a man who boasted on Facebook that a woman was stranded in the freezing weather and he was going to stop and help her, but after deeming her a Trump supporter from seeing a sticker on her car, decided not to, but took pictures of her vehicle stuck in the snow as he drove by.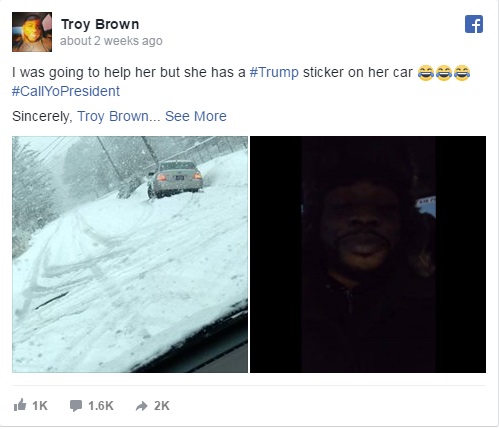 His Facebook post has been liked and shared over 4,000 times and has sparked a massive debate. Many people were upset with Brown for leaving a woman stranded in the snow simply because she had different political beliefs. Brown regularly posts about political issues. After getting slammed for leaving the woman he doubled down. He made a list of people Trump supporters can call on for help when they need it. The list was, "1. Yo president, 2. Exxon Mobil CEO 3. General Flynn's son 4. The gunman at Comet pizza in D.C."
Ohio is one of ten states in the U.S. that does have a "duty to rescue" law on the books, which is largely unenforced, but it requires that people at least notify law enforcement of and/or seek aid for strangers in peril under certain conditions. Whether that law is applicable in this situation would be better addressed by someone with more legal knowledge.
A Georgetown Professor had a complete month-long meltdown after a Muslim women, Asra Q. Nomani, wrote an op-ed in The Washington Post, explaining why she voted for Donald Trump.
C. Christine Fair, a previously "friendly colleague," went on a 31-day screed against Nomani spanning across Twitter and Facebook. According to Nomani's Dec. 23 follow-up complaint to the university, the "Peace and Security Studies" professor called her a "wretch," "clueless dolt" and a fame-monger.
On December 6, this unhinged liberal Georgetown Professor, posted an open letter to "Asra Nomani and her Trump-supporting ilk>" In which she admitted to sending private DM's to Nomani, telling her to "F**k off" and to "go to hell," among other things.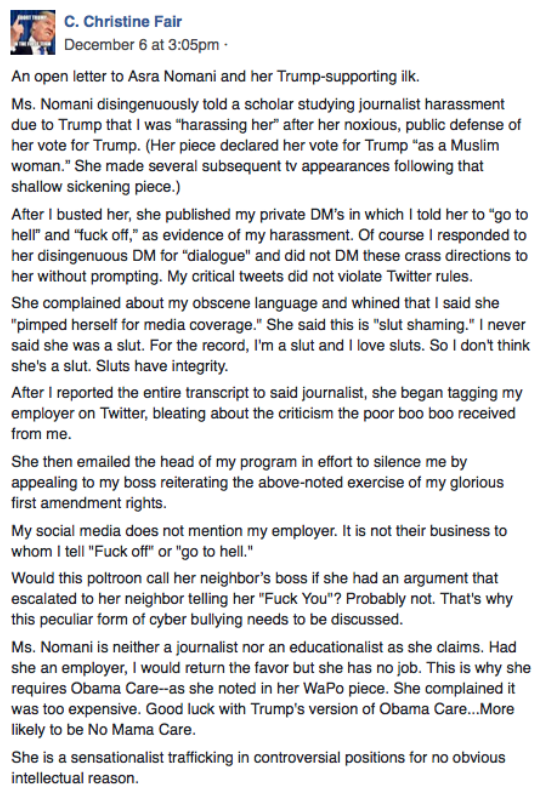 More about the Georgetown Professors month-long, totally unhinged meltdown at the Daily Caller. Ms. Nomani's official 11 page complaint can be seen here (PDF).
In Maine, a propane gas dealer, Michael Turner, who operates of Turner LP Gas Service on Canaan Road, left a message on his voicemail stating "If you voted for Donald Trump for president, I will no longer be delivering your gas. Please find someone else." In that case Trump supporters may get the last laugh because after his voicemail message went viral, it was determined that he has been delivering and dispensing gas without a state license for at least two years, state officials said this week.
Poetic justice.
While other business owners are acting out in the same manner, other offenses which fall directly in the crime category are also being committed, such as In Meriden, Connecticut, two men have been charged with assault in an attack on a man holding a Trump sign,
In Boston a man was severely beaten by multiple black men, punched and kicked, while a crowd taunted him with anti-Trump rhetoric.
In Ohio, a man was arrested and charged in federal court for threatening to assassinate Trump, for Tweeting "My life goal is to assassinate Trump," on election night.
Examples here to go on and on, and unlike the mainstream media who continue to turn liberal hoaxters, claiming Trump supporters have been harassing them, into poster boys and girls for the "Trump supporters are haters" meme, we have excluded the reports that cannot be documented by more than a social media claim by an alleged victim without any way to confirm.
Related: Who are the violent ones!?!? Compilation shows Donald Trump supporters being systematically attacked while the liberal media blames them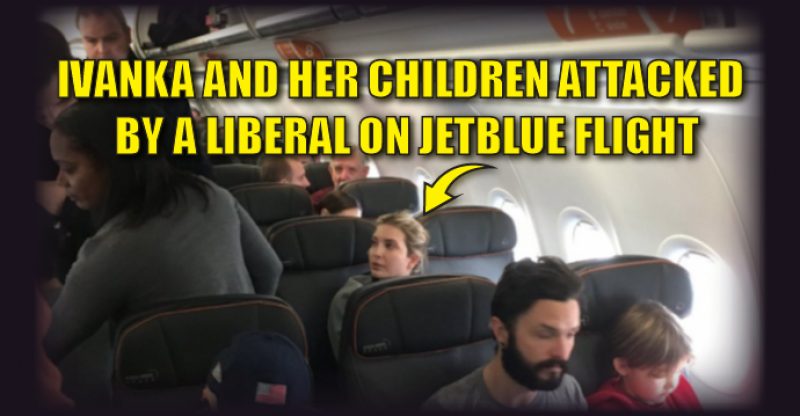 BOTTOM LINE
The point here is that the mainstream media is deliberately trying to create their own reality of some type of "Trump supporters" crime wave against Clinton supporters, but downplay the verified constant violent behavior, death threats, and harassment being perpetuated against, Trump, his family, and Trump supporters all across the United States.
Progressive liberal Democrat Clinton supporters are becoming totally unhinged, completely out of control, and dangerous.
PROFANITY WARNING for the video below when foul-mouthed liberals try to pick a fight with incredibly calm Trump supporter — over his T-shirt.
While the the profanity in the video almost made me skip showing it, the importance of seeing how calm the Trump supporter remained in the face of such blatant harassment, makes the very point about how it isn't Trump supporters harassing Clinton supporters but it is liberals deliberately attacking Trump supporters.
Excellent commentary about the video clip above from JMiller Speaks Out.