Sarah Palin is suing the New York Times for falsely stating she incited Jared Loughner to carry out a mass shooting targeting Democratic Rep Gabrielle Giffords in a recent article by The Times Editorial Board.
From The Daily Caller:

Sarah Palin is suing The New York Times for defamation, according to documents filed in federal court Tuesday that were obtained by The Daily Caller.

The lawsuit has to do with an editorial the NYT ran on June 14 that falsely smeared Palin as inciting the 2011 shooting of Democratic Rep. Gabby Giffords by a mentally ill man. There is no evidence to support the NYT's implication that Palin played a role in inciting the Giffords shooting.

"Mrs. Palin brings this action to hold The Times accountable for defaming her by publishing a statement about her that it knew to be false: that Mrs. Palin was responsible for inciting a mass shooting at a political event in January 2011," Palin's suit states.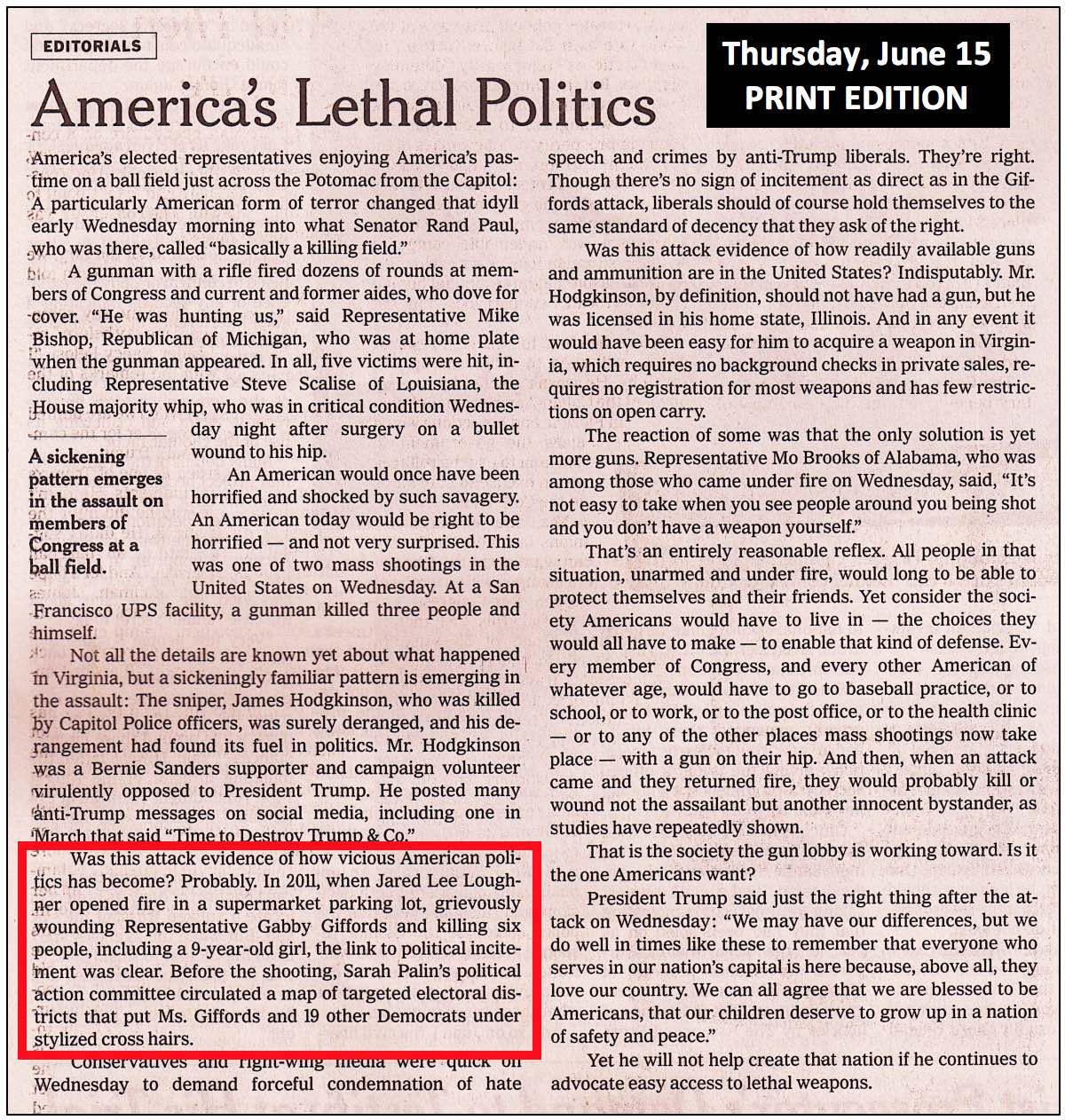 "Specifically, on June 14, 2017, The Times Editorial Board, which represents the 'voice' of The Times, falsely stated as a matter of fact to millions of people that Mrs. Palin incited Jared Loughner's January 8, 2011, shooting rampage at a political event in Tucson, Arizona, during which he shot nineteen people, severely wounding United States Congresswoman Gabrielle Giffords, and killing six, including Chief U.S. District Court Judge John Roll and a nine-year-old girl."

The lawsuit states that the paper "published and promoted its Editorial Board's column despite knowing that the linchpin of its 'sickening pattern' of politically-incited shootings was the false assertion that Mrs. Palin incited Loughner to murder six people, among them a child and federal judge, and seriously wound numerous others."

It goes on to state: "As the public backlash over The Times' malicious column mounted, it responded by making edits and 'corrections' to its fabricated story, along with half-hearted Twitter apologies–none of which sufficiently corrected the falsehoods that the paper published. In fact, none mentioned Mrs. Palin or acknowledged that Mrs. Palin did not incite a deranged man to commit murder."
Breitbart has more:

Here is what the Times originally wrote in its editorial:

Was this attack evidence of how vicious American politics has become? Probably. In 2011, when Jared Lee Loughner opened fire in a supermarket parking lot, grievously wounding Representative Gabby Giffords and killing six people, including a 9-year-old girl, the link to political incitement was clear. Before the shooting, Sarah Palin's political action committee circulated a map of targeted electoral districts that put Ms. Giffords and 19 other Democrats under stylized cross hairs.

The Times, after much public backlash from even Palin's harshest critics on the left and right, then issued two subsequent corrections.

After adding that "no connection to the shooting was ever established" to its original editorial, the Times issued this correction on June 15:

An earlier version of this editorial incorrectly stated that a link existed between political incitement and the 2011 shooting of Representative Gabby Giffords. In fact, no such link was established.

But the Times never corrected that it had falsely stated that Palin had put "Giffords and 19 other Democrats under stylized cross hairs" when Palin did no such thing.

Later in the day on June 15, the Times edited its editorial again to note that Palin's map "showed the targeted electoral districts of Ms. Giffords and 19 other Democrats under stylized cross hairs."

It then issued its second correction:

The editorial also incorrectly described a map distributed by a political action committee before that shooting. It depicted electoral districts, not individual Democratic lawmakers, beneath stylized cross hairs.

Yet, in a statement to CNN, the Times insisted that their errors did not "undercut or weaken the argument of the piece."

Palin's lawyers pointed out that "despite recognizing that its statements about Mrs. Palin in the June 14, 2017 column 'America's Lethal Politics' are not true, The Times repeatedly failed to meaningfully retract or correct its column and apologize to Mrs. Palin for publishing it. Rather, The Times issued a statement affirming that its 'error doesn't undercut or weaken the argument of the piece.'"
While defamation suits are very difficult to win, she's hired Hulk Hogan's legal team who successfully sued Gawker for millions.