By Susan Duclos – All News PipeLine
With the data from U.S. being compiled and added into the models for COVID-19 coronavirus, we see the welcome news that there will be less deaths than originally predicted by those models.
With that said, the term "less" is relative considering the death toll just in the U.S. is still running into the thousands, and expected run into the tens of thousands or more by the end, as the reports from Funeral Homes, and hospital workers show how overwhelmed the system has already become, even before the much-talked about "peak" is reached.
As Stefan Stanford reported on Thursday, "Dr. Janis Orlowski warns that what we're witnessing right now will likely be repeated again in November or December, just like the Spanish flu of 1918 – 1919 which came back with a deadly vengeance."
That possibility is made more likely as we see reports that the virus can become reactivated in patients thought to have been "cured," as other reports tell us that in Wuhan, China, the first place COVID-19 started spreading, has lifted their lockdown after two months, and approximately 7,000 people flew out the first day.
Lets puts some of the numbers into perspective before highlighting how fast distribution chains can and now have been disrupted, how bodies start piling up, how the health system has become overwhelmed, and how once the "peak" has been reached, we will only be at the "end of the beginning" of this pandemic.
To understand the scope of the infections just here in America, consider the fact that in New York alone, there are more COVID-19 infections than in any other whole country.
FUNERAL HOMES OVERRUN WITH DEAD BODIES
Imagine not being able to bury your loved ones after they have passed because the Funeral Homes are jammed packed with dead bodies, having to stop services because the viewing rooms are being used to store those bodies until there is an "opening at the local crematorium," which are more than 10 days behind because of the influx of the recently departed.
That is happening in New York already.
On April 8, 2020, The New York Post reported on just that situation as New York City Funeral Homes describe just how overwhelmed they have been and how out-of-control and chaotic things have become.
"The last couple of weeks have been totally out of control," said Matthew Pinto, director of the Provenzano Lanza Funeral Home in Manhattan.

"On a normal day, our funeral home will do between one and two calls. Now we're doing eight or nine. Honestly, we're not equipped for it."

Joe Neufeld, director of the Gerard J. Neufeld funeral home just five blocks from the city's COVID-19 hotspot at Elmhurst Hospital, said he went from holding about 14 funerals a week to more than 50 last week alone.

He stopped having the services because his viewing room is now filled with remains.

"We had no choice," he said. "I've had families call me telling me they can't find anyone to take their loved one."

"I have 25 remains in my back room and most of them are COVID cases," Neufeld said. "I couldn't bring people in because it could be dangerous. I just don't know."

In an open letter to Gov. Andrew Cuomo this week, the National Funeral Directors Association pleaded with the governor to sign an executive order authorizing temporary licensing for out-of-state-funeral directors to come in to help.
In that letter, the NFDA offers the services of hundreds of volunteer funeral directors to deploy to New York to "help ensure the dead are buried with dignity."
Other reports quote a funeral director as saying "I thought I would never see that many body bags in my life."
New York City is also burying unclaimed bodies in NYC's Hart Island, and while that is not an uncommon practice, since the COVID-19 pandemic hit, they have gone from burying 25 bodies once a week to dozens of burials, each day five days a week.
Typically, inmates are paid a small amount to bury bodies on the island. However, the island has been seeing a spike in burials since March, with the burials going from once per week to burying about two dozen bodies per day for five days a week, according to Jason Kersten, the spokesman for the New York City Department of Corrections.

In fact, the New York Post reported 40 wooden boxes were buried on the island Thursday alone, with the burials no longer being performed by inmates but, by private contractors wearing protective suits.
It is important to acknowledge that not all the unclaimed bodies died from the coronavirus, yet since March, as COVIFD-19 was spreading throughout America, the numbers skyrocketed.
The correlation obvious.
HOSPITALS RUNNING OUT OF BODY BAGS
Jump over to Michigan: Another hard-hit area is Detroit,  Michigan, where hospital workers describe how they are running out of stretchers and body bags, and on some days out of oxygen tanks,  while people are dying in the hallways.
Below is a short excerpt from MLive.com from Michigan, and it is hard to read because the desperation on the part of the hospital workers is almost tangible just from quoted comments.
DETROIT — Krysti Kallek has worked for the past decade in the emergency department at Detroit's Sinai Grace Hospital. But she's never experienced anything like Michigan's coronavirus crisis.

The number of patients. The severity of their symptoms.

The emergency department is bursting to the seams, day after day, night after night.

"We've run out of stretchers. We've run out of body bags," said Kallek, who is a nurse.

Patients end up in the emergency-department hallways using oxygen tanks, she said. One night, they even ran out of oxygen tanks, so staff ran oxygen tubing from patient rooms to the people in the hallways.

And the COVID patients who come in are so, so fragile.

"We've never had patients like this, who crash so fast out of nowhere," Kallek said. "One minute they're smiling and the next minute they're down."
Read the entire thing to get an idea of how dire these conditions are becoming, as she explains that at one point there six nurses, including one in training. to care for 68 patients.
The Detroit hospital isn't the only place running out of body bags.
We are reminded of an April 4, 2020 report which described a shortage of body bags in New York as well. In the article linked at the top from New York Post, the funeral homes are also reportedly running out at some point.
Related: The Pentagon is seeking 100,000 body bags for civilians in COVID-19 pandemic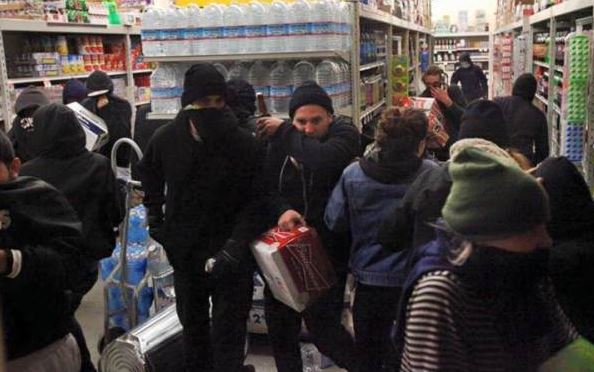 BE PREPARED TO DEFEND YOURSELF, YOUR FAMILY AND YOUR SUPPLIES
With word that some grocery store workers have contracted COVID-19 and died, forcing some stores to close, we see other reports where some major meat processors, such as Tyson and JBS USA, have suspended operations after employees fell sick with COVID-19. At the moment certain experts claim the shortages shouldn't affect retailers yet, but more sickness and closures will undoubtedly have an effect.
Readers may want to stock more canned meat, just in case more have to close.
Please remember that just because an item says "in stock," doesn't mean they can deliver it within a reasonable time frame. Look to the "delivery" dates and not just the "in stock" claim or you may order something but not receive it for a month or two.
Throughout the years ANP and many other Independent News websites have pointed out how fast civilization can break down should there be an event, whether it is an EMP, terrorist attack, grid down scenario, economic collapse, or any other catastrophic event,  and some of the early signs of increasing crime clearly shows why two million guns were sold in March 2020, which was one million more than this time last year.
As gun grabbers and proponents like Alyssa Milano, are begging Americans to stop buying firearms, Second Amendment supporters like James Woods are pointing out why people need to be prepared, saying "When the looting starts, always be prepared. Buy more ammo!"
The data backs Woods' assertions up.
Via Fox News, we see some disturbing numbers.
In California, authorities in Stanislaus County said this week that 10 suspects had been charged with looting, which refers to thefts that occur during emergency situations.

Police in Modesto say a man and woman were recently seen in a store parking lot pushing a shopping cart containing about $400 in items for which they allegedly hadn't paid, the Modesto Bee reported. The woman was arrested but the man remained at large.

In another incident, police arrested two men who allegedly broke into surrounding businesses so they could access the ATMs at a Wells Fargo Bank branch, the Bee reported.

In New York City, police say burglaries at commercial addresses have risen 75 percent since March 12, when Mayor Bill de Blasio declared a state of emergency, The Wall Street Journal reported.

Seattle has seen burglaries rise 21 percent, including an 87 percent spike in the city's downtown area, police recently told radio station KTTH-AM.
Then we have social media morons teaching people how to shoplift and loot, and example of one shown below.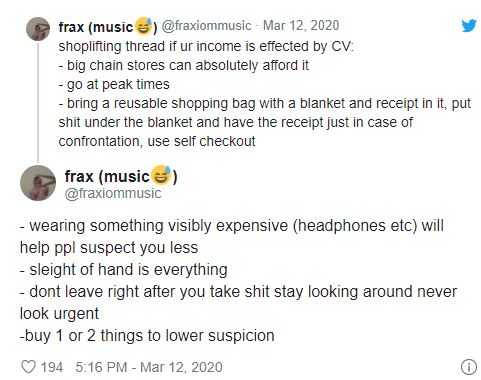 The key quote in that article comes from Dennis Santiago, a California-based firearms instructor, who explains "Firearms are a psychological symbol of being safer in uncertain times," then continues to point out "People will gravitate to them. They are not acquiring them to use them. They are purchasing them, hoping they won't have to."
Couldn't have said it better myself.
For those not comfortable owning a firearm, for whatever personal reasons, consider getting other means of self-protection. There are a variety of ways to protect yourself. From tasers to stun guns, batons to mace, and even a good old fashioned baseball bat, can offer some level of protection.
BOTTOM LINE
The fact that predictive models have lowered their original death toll predictions, and as more data is provided will get more accurate, is a good thing, but going from potentially hundreds of thousands Americans dead to tens of thousands, is still an unacceptable death toll, especially if the virus can reactivate in patients that have already survived it once, which could potentially double or triple even that.
Also concerning is the spike in crime, looting and burglaries, in just the first month of states issuing lockdown orders.  That will get worse as more grocery stores are forced to close, and meat processors forced to suspend operations.
Seeing the reports of hospitals running out of body bags, and funeral homes being overrun by the dead and having to wait over a week just to schedule a cremation, is heartbreaking.
This is not something the nation is going to recover from quickly, and as I said at the top of this article, when the spread of COVID-19 peaks, it will not be the beginning of the end, but rather the end of the beginning.
God bless and stay safe.