The whistleblower testimonies supporting the existence of the Dulce base suggest that such a secret facility is indeed conducting a range of projects that focus on technology exchange, mind control, genetic experiments, and human rights abuse of abducted civilians.
It is likely that one or more of these projects became an area of dispute between ET races and clandestine government organizations.
This dispute led to military hostilities that became known as the 'Dulce War'. The precise cause of this confrontation remains unclear, however what does emerge from the various testimonies is that it did occur and involved significant number of fatalities involving US military personnel, Dulce security guards, and ET races.
According to Castello, the Dulce military conflict began as a result of the growth of a resistance movement between both security guards and sympathetic ETs that desired to help imprisoned humans in the ET sections of the base. Eventually 100 elite Delta force military personnel were sent to eradicate the resistance movement that began to threaten established security procedures at the joint base.
This force suffered a number of fatalities and inflicted heavy casualties upon both resident ETs and base security personnel. The military confrontation at Dulce has been reported by other whistleblowers including Phil Schneider who worked as a geological engineer in the construction of the Dulce base, another underground base in the US, and other underground bases around the globe.
Schneider gave the following details of his background and the existence of a military confrontation in 1995:
To give you an overview of basically what I am, I started off and went through engineering school. Half of my school was in that field, and I built up a reputation for being a geological engineer, as well as a structural engineer with both military and aerospace applications. I have helped build two main bases in the United States that have some significance as far as what is called the New World Order [a UN run world secretly controlled by 'tall Gray' ETs].
The first base is the one at Dulce, New Mexico. I was involved in 1979 in a firefight with alien humanoids, and I was one of the survivors. I'm probably the only talking survivor you will ever hear. Two other survivors are under close guard. I am the only one left that knows the detailed files of the entire operation. Sixty-six secret service agents, FBI, Black Berets and the like, died in that firefight. I was there. [48]
Schneider described the cause of the 1979 military confrontation as little more than an 'accident' that arose from drilling for a planned extension of the Dulce base:
I was involved in building an ADDITION to the deep underground military base at Dulce, which is probably the deepest base. It goes down seven levels and over 2.5 miles deep.
At that particular time, we had drilled four distinct holes in the desert, and we were going to link them together and blow out large sections at a time. My job was to go down the holes and check the rock samples, and recommend the explosive to deal with the particular rock. As I was headed down there, we found ourselves amidst a large cavern that was full of outer-space aliens, otherwise known as large Grays.
I shot two of them. At that time, there were 30 people down there. About 40 more came down after this started, and all of them got killed. We had surprised a whole underground base of existing aliens. Later, we found out that they had been living on [in] our planet for a long time… This could explain a lot of what is behind the theory of ancient astronauts. [49]
An important difference between Schneider's and Castello's versions is that Schneider did not refer to the underground base as a joint facility.
He described it as a seven level US military facility that had 'accidentally' been built on top of an ancient ET base. He believed that his job was to simply extend the existing base rather than attacking ET races for an undisclosed purpose.
The unlikelihood that the Dulce facility was 'accidentally' built on an ancient ET base suggests that Schneider was only partly informed of the true nature of his mission and what was occurring on the lower levels. The more likely scenario was that Schneider had to assist US military forces to access the innermost layers of the Dulce facility, level 7, that had been closed off and where the true cause of the dispute lay.
Sometime in 1993 Schneider quit working for his various corporate clients that serviced military contracts after becoming convinced of a plot by the tall Gray ETs to develop a New World Order dominated by the United Nations that they would be secretly controlling.
He subsequently began a series of public lectures revealing the activities at the underground bases he helped construct and the role of extraterrestrial races in infiltrating national governments and being the true architects of a New World Order. Schneider gave a keynote lecture at a MUFON conference in May 1995, and was found dead in his apartment seven months later in January 1996. [50]
Circumstances surrounding the death of Schneider and his autopsy report led many to declare that Schneider had been murdered for going public with his knowledge of ETs and the secret underground base. [51] Schneider's testimony, his clear knowledge of geological engineering, and mysterious death all support his central thesis that an underground base exists at Dulce, and a military confrontation between ETs and elite US military forces occurred at the lowest level of this underground facility.
Another 'whistleblower' that lends credence to the possibility that a firefight had occurred between US military forces and ETs in a secret underground base was Dr Michael Wolf.
Wolf's book Catcher's of Heaven described a firefight between ETs and elite US military forces that had occurred in 1975 at the Groom Lake, Nevada facility that may have been related to what occurred later at the nearby Dulce:
The Greys shared certain of their technological advances with military/intelligence scientists, apparently often while prisoner "guests" within secure underground military installations in Nevada and New Mexico. The extraterrestrials have given the U.S. government some of their antigravity craft and a huge amount of fuel (element 115).
On May 1, 1975 during one such technology exchange in Nevada, a demonstration of a small ET antimatter reactor, the lead Grey asked the Colonel in charge of the Delta Forces guarding the ETs to remove all their rifles and bullets from the room, (so that they would not accidentally discharge during the energy emissions.)
The guards refused, and in the ensuing commotion a guard opened fire on the Greys. One alien, two scientists and 41 military personnel were killed. One guard was left alive to attest that the ETs apparently used directed mental energy in self-defense to kill the other attacking Delta Forces. Dr. Wolf states that "this incident ended certain exchanges with (the Greys)." [52]
There are important parallels with the 'Dulce war' in the description of the 'Nevada' confrontation described by Wolf, with that described by Castello and Schneider.
In both cases, a significant number of US military personnel are killed after a confrontation with ETs.
These parallels suggest either that Wolf was narrating an entirely different conflict, or the same conflict but with some inaccuracies intended to hide the true nature and location of the conflict between the US military and ET races. Some notable differences in the accounts are that Wolfe said that the ETs were 'prisoner' guests rather than sharing joint base facilities with the US.
It is unlikely that ETs as 'prisoner guests' would participate in the kind of significant technology exchange described by Wolf. It is likely that Wolf's reference to the ETs as 'prisoner guests' was intended to hide the true extent of the cooperation between US military and ET races in a shared base that might lead to a connection being made with Bennewitz claims regarding Dulce.
This also casts doubt on whether the conflict did occur in Nevada in 1975 as Wolf writes, or whether he was alluding to the 1979 military conflict at Dulce, New Mexico. If the latter is the case, then Wolf was instructed by his superiors in the 'controlled release of information' to sow some inaccuracies (disinformation) into the information he was releasing that a firefight had indeed occurred at a shared Government-ET facility and the US had taken heavy casualties.
Such a disinformation strategy would strengthen any fall back position of 'plausibility deniability' that the government could choose to take over the sensitive information released by Wolf. Wolf further disclosed in an interview that he had worked at the Dulce laboratory, thereby providing more confirmation for the existence of this secret underground base that is the key claim made by Bennewitz. [53]
Another whistleblower that revealed evidence of the existence of a joint government-ET base and the 'Dulce military conflict' is Bob Lazar. Lazar worked for a few months in 1988 at the S-4 Nevada facility on reverse-engineering the propulsion and power system of ET craft.
In an interview he described his background as follows:
I have two masters degrees, one's in physics; one's in electronics. I wrote my thesis on MHD, which is magnetohydrodynamics. I worked at Los Alamos for a few years as a technician and then as a physicist in the Polarized Proton Section, dealing with the accelerator there. I was hired at S-4 as a senior staff physicist to work on gravitational propulsion systems and whatnot associated with those crafts. [54]
Lazar revealed that in his briefing prior to working on the ET craft he was required to read 200 pages of briefing documents in preparation for his job. [55] He recalled that the briefing document mentioned a battle between ETs and humans at a secret base in 1979.
He said the conflict was caused by a security guard that tried to take a weapon in the ET area and resulted in fatal wounds to security personnel. Lazar's recollection of the briefing document he read in 1988 is very likely referring to the 1979 Dulce firefight.
In sum, the strongest evidence for Bennewitz's claims regarding the Dulce base come from:
Thomas Castello's testimony of his employment and defection from the Dulce underground base after witnessing human rights abuses
testimony of Phil Schneider who was directly involved in the Dulce firefight
important parallels with Michael Wolf's revelation of a firefight that may have occurred four years earlier at another underground base in Nevada and his admission of having worked at Dulce
Bob Lazar's recollection of a written briefing disclosing a 1979 firefight between ETs and security personal at a secret base
and the reports of abductees who underwent hypnotic regression and whose testimonies are recorded in the book, The Dulce Wars
Furthermore, the disinformation campaign instigated against Bennewitz, and the mysterious death of Schneider after his going public on the existence of secret underground facilities, both lend circumstantial support to the view that there was sufficient basis to whistleblower claims concerning the existence of the Dulce underground facility, and possible gross human rights abuses occurring there.
I can now return to the three possibilities mentioned earlier concerning Bennewitz's major claims of the existence of the Dulce base, a military conflict having taken place, and extensive human rights having occurred (or continuing to occur) at the base.
The first possibility was that the evidence substantiates Bennewitz's claims.
The second possibility was that Bennewitz's claims concerning ET abuses against civilian abductees was disinformation intended to steer researchers away from the existence of the base and/or a military conflict having taken place there.
The third possibility was that Bennewitz's claims were compromised by disinformation intended to steer UFO researchers away from genuine sightings of UFO's.
In order to determine which possibility is most plausible, I will now consider some of the criticisms made of Bennewitz's and others claims surrounding the Dulce base.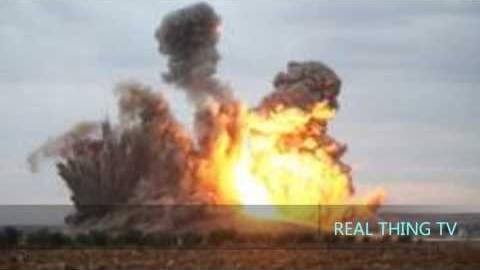 Source: http://www.bibliotecapleyades.net/exopolitica/esp_exopolitics_H_1.htm#dulce_war