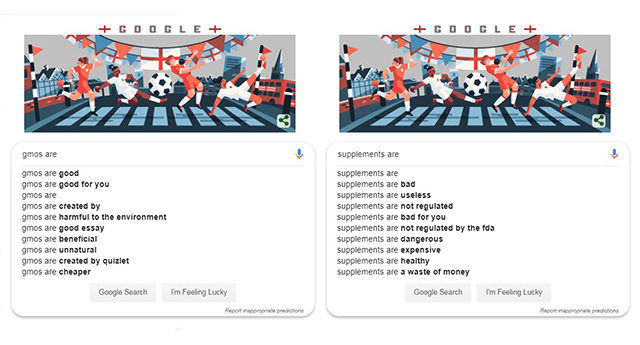 Google is promoting genetically modified organisms as "good" and suppressing supplements as "bad" through their autocomplete feature even though most people search for just the opposite.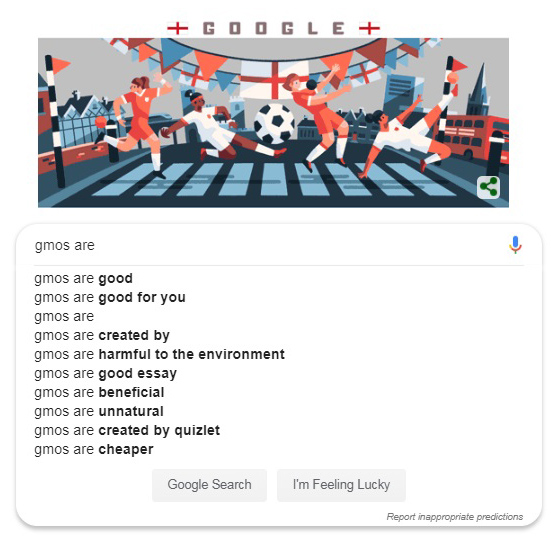 You can see from Google Trends there's significantly more interest over time for "GMOs are bad" than "GMOs are good" and yet the former doesn't even make the list.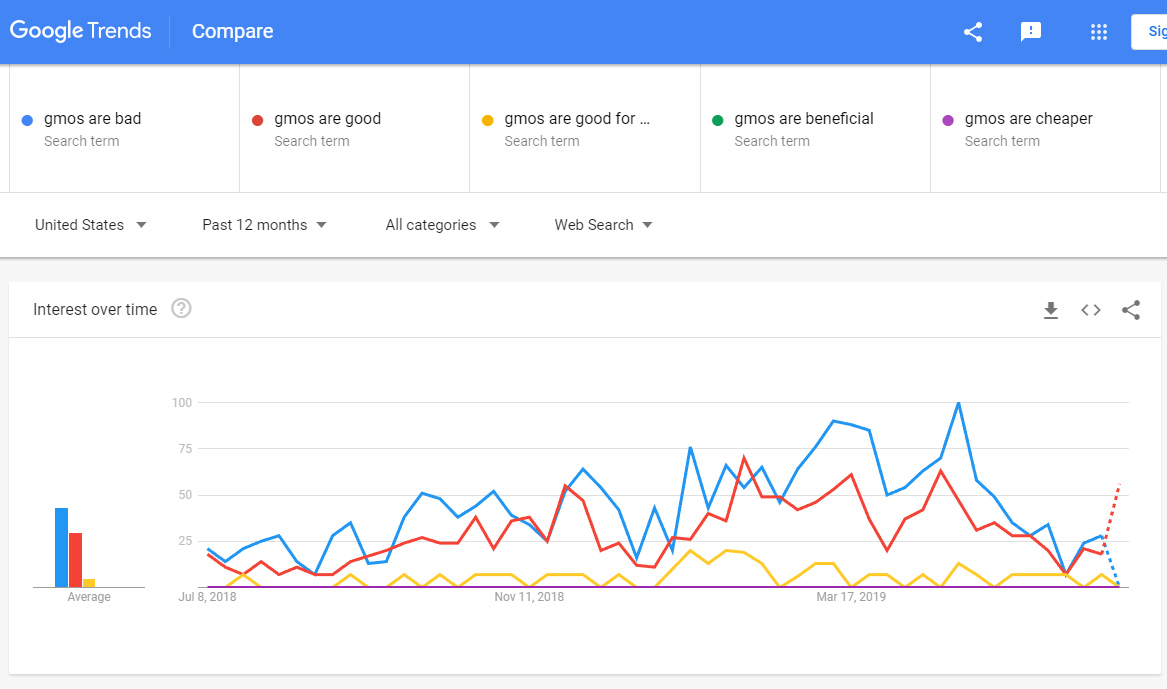 "GMOs are beneficial" and "cheaper" don't even make a blip on the charts when you add them to the Trends search.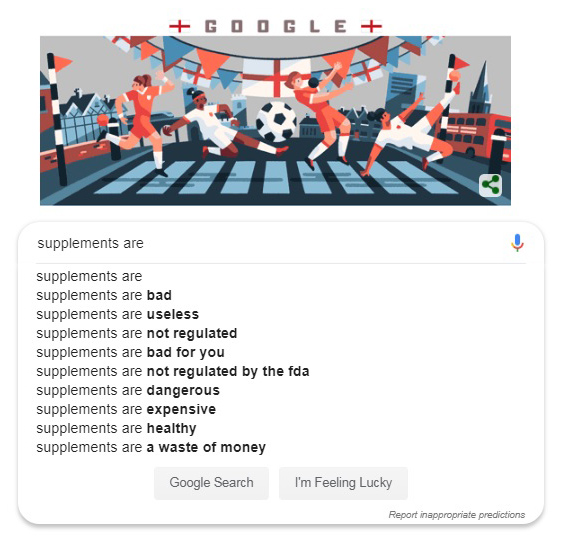 "Supplements are good" has generated more than four times more interest over time than "supplements are bad" according to Google Trends and yet the former doesn't make the list.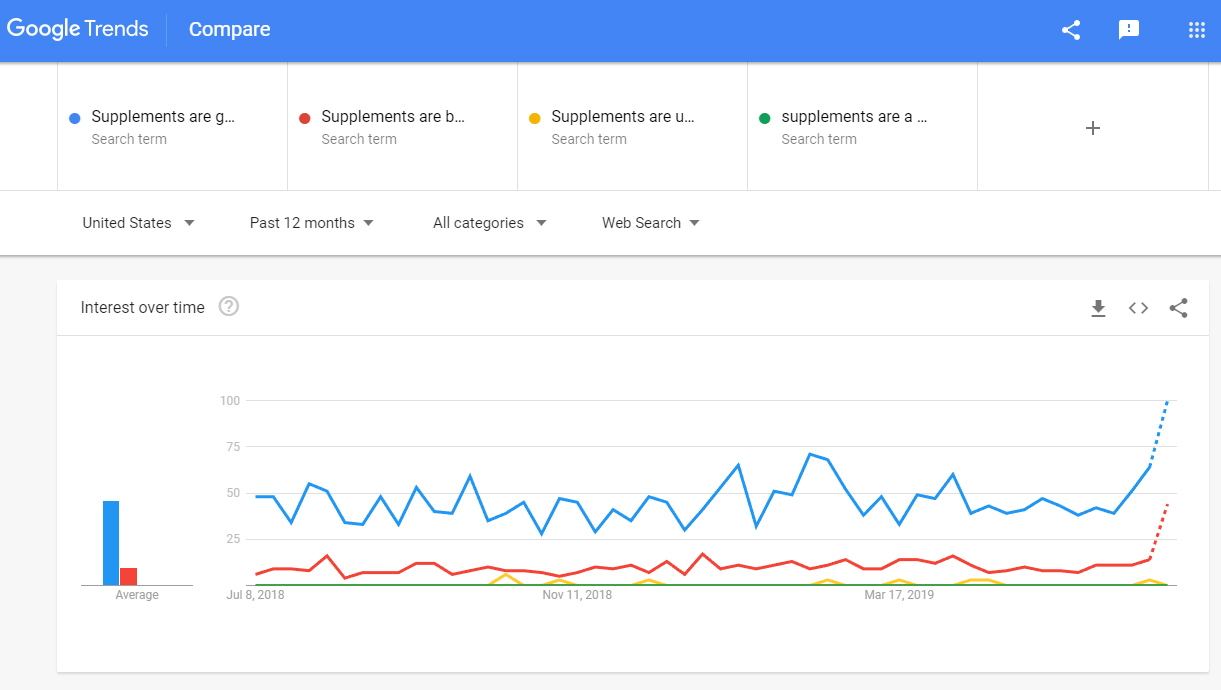 "Supplements are a waste of money" has had zero interest over time over the past year according to Google Trends and yet it's recommended over "supplements are good."
Project Veritas, which was censored by Google last week for exposing Google censorship, was leaked documents confirming prior reporting that Google "blacklists" various search terms on YouTube "on political issues ranging from abortion and gun rights to anti-gun activist David Hogg." The documents Veritas released appeared to show Google manipulated their algorithms on abortion right before a referendum on legalizing abortion in Ireland.
LEAK: Newly leaked @YouTube docs show Irish "8th amendment," "pro-life," "irish catholic" in "youtube controversial query blacklist," which appear to show YouTube injecting itself into global political events –> https://t.co/evS5piM6Ai

— James O'Keefe (@JamesOKeefeIII) June 26, 2019

Google told Breitbart their algorithms "are designed to surface authoritative content of all political viewpoints" to help "prevent spam and conspiracy theories from surfacing prominently on our site."
As I reported earlier this year, Google regularly manually changes their search results in response to liberal journalists' complaints.
"YouTube changed the results after I asked."

Leftist Slate Reporter: YouTube 'Changed Search Results' For Abortion 'After I Asked' https://t.co/oSGvbdGoXz

— Chris Menahan 🇺🇸 (@infolibnews) December 22, 2018
Google breaks its own search engine AGAIN to "fix" reality after a left-wing journalist complains.

Now try telling me again how big tech is non-partisan.https://t.co/L0MLfBVxNL

— Paul Joseph Watson (@PrisonPlanet) January 4, 2019

Google CEO Sundar Pichai said during sworn testimony in December 2018 before congress that he leads the company "without political bias" and "to do otherwise would go against our core principles and our business interests.

"It's not possible for individual employees to manipulate our search results," Pichai claimed while under oath. "We don't manually intervene on any particular search. Providing users with access to high-quality information is sacrosanct."
HT: GreenMedInfo